This is thy walkthrough, as soon as you click "start", click unlimited to make thing safe, click done, and keep re-rolling until you get a total stat points (30+), put 10 in each, then click done one more, you will see a story. Watch it or skip it, and continue.
There is no tutorial, but I will guide you: movement is by arrows, and click to interact with other characters, there are 3 types of transportation listed from worst to best: walking, board, car, and to do the last two you have to shift and walk.
Intelligence is the most important: how smart you are, it controls your salary, your transportation, strength (2nd) just controls how hard it is for you to die, and helps you in bar fights, and the no. Of car crashes you survive, and charm controls (least) controls store robbing luck.
Karma is not too important, except for the final job: president/dictator, if you do good things, it goes up, if bad things, it goes down, and you can guess which job has which type of person, I will tell other things later.
Link play online
: 
http://stick-rpg2.com
Tags
: Stick Rpg Complete, 
Stick RPG
,
Stick RPG 2
, Stick RPG 2
See more
:
Stick Rpg Complete Cheats – Sleeping
Stick Rpg Complete Cheats – President or Dictator
Stick Rpg Complete Cheats – Commodities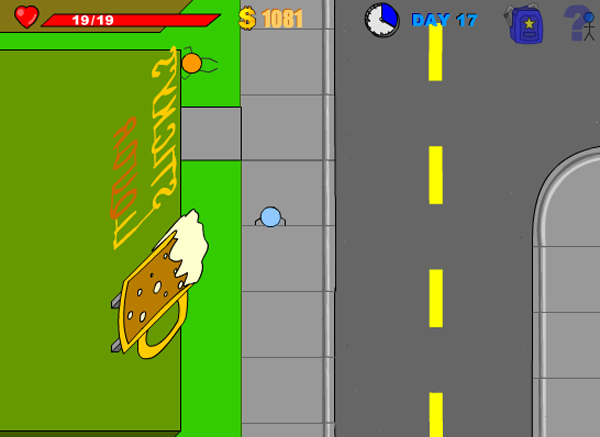 Red car:
---
If you get over $500 you will get a new car.

Commodities:
---
While doing Commodities, before you leave the bus station to sell, make sure you have agun with 99 ammunition. Also make sure that you pump up Strength and Charm and lower your Karma for extra safety.

Darts:
---
When doing the darts, go for the lighter dart board.

Convertible:
---
Start out with unlimited intelligence and get the job of the CEO. Follow the first car cheat and get to day 381. Then, press C and you should be in a red convertible.
Link play online
: 
http://stick-rpg2.com
Tags
: Stick Rpg CompleteCheats, 
Stick RPG
, Stick RPG 2,
Stick RPG 2
See more
:
Stick Rpg Complete Cheats – Easy money
Stick Rpg Complete Cheats – Save money
Warehouse (yellow enemies)
Get enough high strength to challenge the drunk in the bar on the second island. He drops the warehouse key.
Go to the warehouse next to your basement apartment. You have to kill all the yellow enemies. Afterwards you get $500 and a strength bonus.
Mobster Tower (black enemies)
Fight and beat the two mobsters outside Vinnie's at night. They drop the mobster tower key.
-Go to the mobster tower adjacent to your apartment on the second island. Kill all the mobsters. You get $350, 10 strength, 5 charm and an AK47.
Gangster HQ (red enemies)
Get enough strength to challenge and beat the gangsters on the first island near your basement apartment during the morning. They drop the Gangster HQ key.
The Gangster HQ is near the pizza shop on the first island.
Kill all the enemies. You get $625, 15 strength and a double barreled shotgun.
Tags: Stick RPG 2, Stick RPG, StickRPG2
See more: http://stick-rpg2.com
Stick Rpg 2 Walkthrough – Screwdrivers
Stick Rpg 2 Walkthrough – 3 bullets on the slot machines
This cheat for Stick RPG Complete [PC] has been posted at 22 Nov 2011 by zak132 and is called "Infinite money no hack". The Cheat has been commented 10 times. Also 2 users added this cheat at them cheatbooks.
If cheat is usable don't forgot thumbs up zak132 and share this with your freinds. And most important we have 7 other cheats for Stick RPG 2 Complete, look them as soon as possible!
See more: http://stick-rpg2.com
Tag : Stick_RPG_2 Stick_RPG StickRPG2
Thrust into a bizarre and unfamiliar city and find your place among strange citizens. Work, Fight, Study, Eat, Drink, Gamble, Train, Sleep, Quest, Collect, Invest, Repeat. Build up your Stats and Net Worth, collect the mysterious trans-dimensional artifacts, solve the mysteries of Paper Thin City and find your way home.
The Director´s Cut contains tons of new content not available in the online version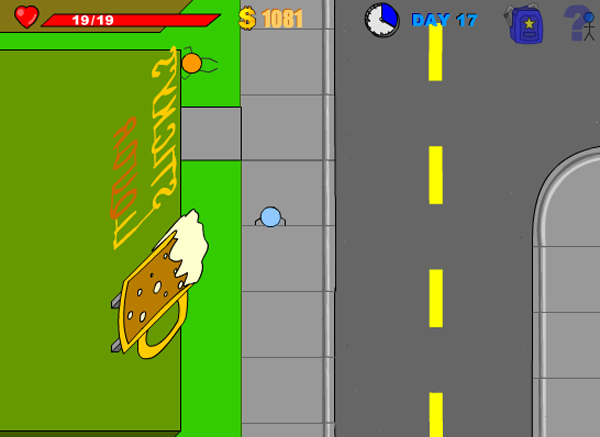 Additional information
This key to activate on Steam.
How do I start to play
Stick RPG 2
: Director´s Cut:
• If the Steam client is not installed, download and install it.
• Log in to your Steam account or register a new one if you do not already have it.
• Go to "Games" and there select "Activate via Steam».
• Enter the activation key (to obtain it is necessary to buy a
Stick RPG
2: Director´s Cut).
• After that, the game will appear in the list, and you can download
Stick RPG 2
: Director´s Cut.
See more: 
http://stick-rpg2.com/
Tag : StickRPG2 Stick_RPG_2 Stick_RPG